FM Bandpass helical filter for transmitting applications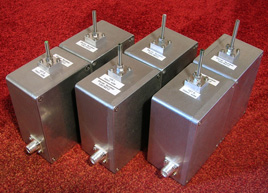 Principal application is for spurious reduction and regulatory conformance on busy shared transmitter sites.
Model number: FMBPF-nnn.n-250-2
Key: nnn.n: Centre Frequency (MHz)
Standard Freq range: 87.5 to 108MHz
Standard number of chambers: 2
Power Handling: 250 Watts RMS continuous, very conservatively rated
Min. Passband >+/-350kHz
Passband Return Loss: <-20dBr
Typ insertion loss <0.6dB
Min. atten at Fc-10.5MHz: <-24dBr
Connectors: N Female
Target Avail: 21 days FRO standard
+ Express service available at a premium
Custom filters of similar power handling are also expected to be available in the range approx. 45MHz to 230MHz. Ask us about your other custom requirements.
Please watch this space for further information or email us if you'd like to be put on the notification list for this product range when it is released.
View brochure with full specifications here.
[E&OE]
Save
Save
Save
Save
Save